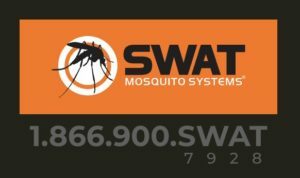 Now that the weather is beginning to calm down – the rainy season just ended, and the heat waves are moving out, we can start thinking about enjoying our backyards again. Hello, backyard parties! Unfortunately, though, we still have to look out for the uninvited guests –annoying mosquitoes and irritating no-see-ums. SWAT Mosquito Systems®️ can help you with mosquito control if you live in South Florida. Check out our guide on How to Throw the Best Outdoor Dinner Party.
While mosquitoes are more prevalent during the hotter months and rainy season, they're always around. After all, we live in a tropical location. And mosquitoes are not only annoying, but their bites can be hazardous to your health. We all remember our battle with mosquitoes and the mosquito-borne Zika virus in 2016 — that was brutal.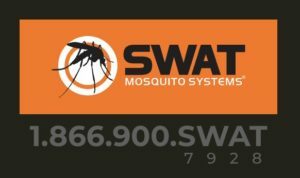 Try Our Effective Mosquito Control Misting Systems
Mosquitoes and no-see-ums are most active at dusk and dawn.  Unfortunately, that covers prime-time for dinner parties.  But not to worry. Food and entertainment aside, we can help you put on the best outdoor dinner party – and you won't have to worry about your guests swatting bugs.  Many people spend a lot of money on store-bought backyard mosquito repellent or other yard bug sprays to attack mosquitoes, which may
work for a few minutes or so, and some of them are toxic. But your best bet for mosquito control in Miami is a mosquito misting system.  It's an excellent preventative approach to the spreading of mosquito and insect-borne diseases.
SWAT Mosquito Misting Systems creates a mosquito prevention perimeter around your home by installing a custom-built misting system. You can set the system to activate 3 to 4 times a day for anywhere from 20 to 45 seconds. You will definitely notice a difference. We guarantee it! You can also clearly see the difference when comparing it to mosquito fogging.
We Provide Non-Toxic Mosquito Control
We take a professional approach to pest control – attacking mosquitoes without harming the environment. Our custom-designed mist system is made from pyrethrum, which is derived from chrysanthemum flowers – (mums for short) and is fully biodegradable. It will not leave a residue and is a low-toxicity pesticide from a human health standpoint.  It's effective and repels mosquitoes and no-see-ums without putting your pets or your family at risk. We would love to come out and talk to you about how our mosquito system can help put you and your family and guests at ease. We'll answer any questions you may have about our system, its effectiveness, and how it works.
Take Preventative Measures
In the meantime, there are precautions you can take to keep down mosquito action in and around your property:
Drain/eliminate any standing water, prime locations for mosquito breeding.
Make sure your windows and doors are screened properly and are not torn or ripped.
Use mosquito repellent.
Our Systems are Effective Against Mosquitoes and No-See-Ums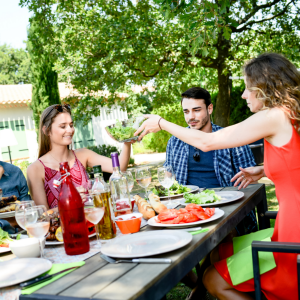 SWAT Mosquito Systems®️ is the largest and most respected mosquito control company in Florida. Our system is also very effective against no-see-ums, as well. SWAT Mosquito Systems®️ has several locations throughout Florida.
Enjoy Your Dinner Party!
Take back your patio, pool, deck and playground, and enjoy a mosquito-free environment, safely – thanks to SWAT Mosquito Systems®️. Get ready to throw the best outdoor dinner party ever – without the annoying, buzzing and uninvited guests!
Call Us and Make an Appointment
When looking for mosquito control for your backyard dinner party, call SWAT, Florida's best mosquito control system and make an appointment for a free consultation and estimate. Call us at 866-900-SWATor schedule an appointment on our website. We offer a money back guarantee.