Did you know that we have something in Florida called Mosquito-Borne Disease Surveillance? This is a weekly report – called the Weekly Arbovirus Report – monitoring the spread of disease from mosquitoes and other biting insects. It's run year-round because, unlike most states, the mosquito season in the Sunshine State is a little complicated. 
Have you ever asked, "when does mosquito season end in Florida?" You're not alone. A quick Google search turns up over 18 million results. That's a lot of people asking the same question. They're in luck! Today, the biting insect experts at SWAT Mosquito Systems®️ are here to tell you exactly when mosquito season is over! 
When is Mosquito Season?
So, when is mosquito season in Florida? Well, that all depends on where in Florida you live. Northern Florida experiences peak no-see-um and mosquito season during the late spring and summer. Southern Florida experiences peak mosquito season…all year round. This is due to the different climate zones of Florida. North and Central Florida are subtropical, while South Florida is simply tropical.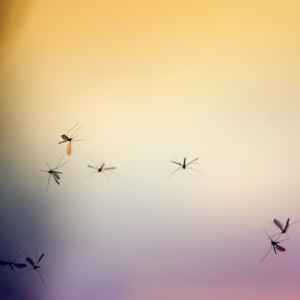 Yep, thanks to the humid temperature and frequent rainfall, we're a biting insect's paradise. Temperature and the average amount of rainfall are the two largest factors in determining how many mosquitos breed in any given location. South Florida has both of these in excess. While our ACs can keep the heat at bay, there isn't much that can be done about the rain. That's just nature. 
When is Mosquito Season Over?
If the most popular question for many Florida residents is, "when is mosquito season," then clocking in at a close second is, "when does mosquito season end in Florida?" Unfortunately, it doesn't. There are certain times in the year when it gets better, though! 
Florida's rainy season is usually between June and October. It can shift – this year it started in mid-May and is expected to continue until November – but these are the general months when it's both hottest and wettest. These are also the months when mosquitoes, no-see-ums, and all other biting insects come out in force. 
Mosquitos need temperatures of at least 50 degrees Fahrenheit and standing water to breed in. They have both during the summer months. So, when does mosquito season end in Florida? It gets better over the fall and winter, but it never really ends. 
Protecting Your Home During Mosquito Season
If mosquito season doesn't end, then you need to make sure your home is always protected. Sure, you can spend thousands upon thousands of dollars on regular exterminator visits. You can also opt for a more effective, and more cost-effective, mosquito misting system. 
These are convenient, automated spray systems that keep your yard free of biting insects. The specially designed SWAT System uses a chrysanthemum-based mist called pyrethrum. Not only does this kill mosquitos quickly and efficiently, but it also stops them from biting before they're killed. You won't find more comprehensive no-see-um, mosquito, and biting insect protection! Take a look at some of our systems in action for proof. 
When is mosquito season and when does mosquito season end in Florida? Simple – the minute you pick up the phone and call us at 1-866-900-SWAT for a free estimate. We move in, and mosquitos move out!