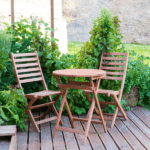 Fortunately, living in South Florida affords you the opportunity to enjoy your patio and backyard throughout the year. But with spring around the corner and summer not too far away, you might be thinking of more outdoor dinner parties, backyard barbeques, and other social events. It might be time for you to upgrade your outdoor décor, making your patio area both beautiful and functional. Here are some patio ideas to enhance your space while keeping mosquitos and no-see-ums at bay.
Create a Unique Landscaping Design
The perfect landscaping around the patio and backyard can be breathtaking. Beautifully shaped bushes and shrubbery can give new life to any patio. Don't forget to make natural bug-repellant plants – such as rosemary – part of your landscaping plans. But the best way to get rid of mosquitos and no-see-ums is with a mosquito misting system.
Upgrade Your Patio Furniture
When is the last time you bought new furniture for your patio? There are so many more seating options available. Plus, newer furniture will likely be more weather-resistant than what you currently have. Happy shopping!
Build an Outdoor Kitchen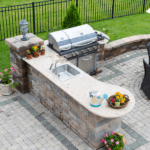 Imagine having an outdoor kitchen complete with a stove/grill, sink, and a refrigerator. How convenient is that? No more running back and forth into the house which lets bugs in. Everything you need is right there.
While you're building your outdoor kitchen, why not add a bar? Make it complete with a sleek counter, and decorative high stools.
Upgrade Your Screens
It may be time for you to upgrade the screens on your windows, doors, and on your lanai for added protection against small bugs. Those annoying no-see-ums and gnats can easily fit through most screens. Newer screens with tighter weaves can help.
Cover Your Patio with a Tent
If you're planning to host a special event, consider renting or buying a tent that would cover your entire patio. Think of it as an extension of your lanai.
Use Functional Décor to Keep Bugs Away
Products such as floating citronella candles and small decorative pots of fresh herbs such as sweet basil can help keep bugs away. But to get rid of insects altogether, consider using a mosquito misting system.
Install a Unique Lighting System
Think about updating the lighting around your landscaping. Innovative, energy-efficient landscape lighting systems can help save you money, and enhance the look of your patio area.
Install a Trellis as a Makeshift Roof
To add flair and ambiance to your patio dining area, consider building a trellis overhead to create an airy "roof". Add lighting to it and adorn the area with plants and perhaps even a small tree to create an intimate outdoor dining space.
Install the Best Customized Mosquito Misting System
This is our favorite idea because when it comes to targeting mosquitos and no-see-ums, SWAT Mosquito Systems®️ works! The patio is not only a great place to entertain, but to also unwind after a stressful day. Don't let bugs stress you even more. We can get rid of mosquitos on your property.
Get Your Patio Ready for Spring
Incorporating outdoor design trends into your decorating plans can be fun and can upgrade the value of your home – so can a customized mosquito misting system. Contact us for a free estimate. Contact us at (866) 900-SWAT (7928). Let us help you protect your beautiful outdoor oasis.