When Steve Jenkins wanted to find a way to keep his newborn son safe from the dangers of insect bites, he became a man with a mission. Now, his company, SWAT Mosquito Systems®️, takes the sting permanently out of mosquito season in South Florida with a proprietary system that is custom designed for each client's home or business.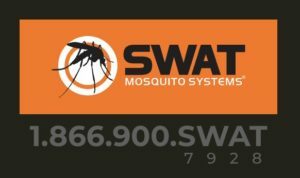 "It's really important to be able to enjoy the outdoors around your home or workplace without the fear of being bothered by mosquitoes, no-see-ums and biting insects," says Jenkins, an engineer and president of SWAT Mosquito Systems®️, a licensed pest control company. "Our system is higher quality than other companies in South Florida. And, because we are the largest in the region, we can supply a better and quicker service." SWAT Mosquito Systems®️ creates a mosquito- free barrier around your business, home, pool and backyard by installing a system of nickel-plated and stainless-steel nozzles in order to kill mosquitoes and other insects. It is a fully automated system that uses a safe, botanical insecticide derived from chrysanthemums, or an equally safe organic alternative made from rosemary oil. Jenkins explains that his team of pest control professionals takes great care to custom design each misting system to be highly effective, but largely unnoticeable. "We're perfectionists," he says. "We're always concerned about how it looks and making sure it is installed correctly."
Once installed, the system sprays at regular intervals, according to the client's schedule and needs. Jenkins recommends misting during the evening and nighttime hours, when biting insects are most active. Each SWAT system comes with a comprehensive guarantee and the company's lifetime warranty covers all parts and labor for full-service customers. "We know the system works," Jenkins says. "We have a saying: We move in, mosquitoes move out."
This article originally appeared in The Boca Raton Observer" Special Advertising Section.