Mosquito misting systems play a vital role in protecting humans from the all-too-familiar annoyance of mosquito bites and swarms. But beyond the mere convenience of these systems, they can play a vital role in maintaining the general welfare for the public-at-large. So how do mosquito misting systems accomplish these miraculous feats? The magic of the misting system is largely in the ingredients—which are pyrethrum-based products, as well as wholly organic mixtures.  Regarding mosquito misting systems, the United States Environmental Protection Agency (EPA) "does not expect risk or concerns to humans", and thanks to the product's properties, these misting solutions can successfully thwart some of the most catastrophic mosquito-borne illnesses, some of which are still a present threat at home and abroad.
Biting Insects Can Cause Serious Health Problems
We have all heard of Zika and how dangerous it can be. The fact is, there are hundreds of diseases and illnesses that are carried and transmitted by biting insects. By having a mosquito misting system, you are dramatically reducing your chances of contracting a mosquito-borne illness. If you take into consideration the likelihood of becoming sick because of mosquitoes and the impact that a misting system can have then, without a doubt, the benefits of a mosquito misting system are apparent.
The Convenience and Effectiveness of Mosquito Misting Systems?
Most people put their home mosquito control system on a timer, the mist is then released every x number of hours following whatever schedule you set. This keeps the insect population in check. Modern mosquito misting systems aren't just effective, but they offer unparalleled contextuality and convenience, too. Picture this: you are having a BBQ and you are planning on firing up the grill in a little while. Turn the mosquito mist on, let it go through its cycle, and after a few minutes, and once the mist is no longer in the air, you can go outside and enjoy an insect-free get-together, minus the mist and mosquitoes. No complicated set-up and no lengthy and time-consuming processes—just easy-to-use and convenient mosquito elimination.  Like all things, your mosquito misting system's effectiveness is dependent on how you use it and how often you turn it on.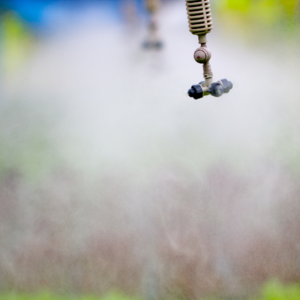 Mosquito misting system can be a misleading name. It is not only effective against mosquitoes, but also no see-ums and all manner of biting insects can be eliminated by having a system installed and used regularly.
Contact the Mosquito Misting Systems Specialists
Ready to do away with mosquitoes and biting insects once and for all? If you want a system that is simple to use and comes with the ability to access the system from anywhere, then you found the ultimate solution with SWAT Mosquito Systems®️. SWAT Mosquito Systems®️ is 13-years-old and is located locally in South Florida. Our expertly-trained technicians install, monitor, and maintain the best mosquito misting systems on the market. Ready to say goodbye to mosquitoes once and for all? Contact us at 1-866-900-SWAT (7928) or complete our online contact form for a free estimate.